Aton Tech corded, Standard Battery-pack
€789 – €829 (including 21% VAT)
Focus beam 12°
Integrated Li-ion rechargeable battery pack 76 Wh
Description
High-performance diving light equipped with innovative Aton PRESS control system creates a concentrated beam of cool white light, less absorbed by water.
Primary diving light for long challenging dives with cable connection to the battery case, fully equipped with advanced features that provide you with all the comfort and safety in use.
Aton PRESS system works on the basis of evaluation of micro-deformations at the point of pressing and has no mechanical parts, which could be damaged or clogged with sand and mud
three power levels (20%, 50% and 100%) to adjust the light intensity according to your needs
allows you to constantly check the remaining battery capacity during the dive with three-color LED, so you can safely complete a night dive, or a dive in wreck or cave
for use outside the water, there is an intelligent thermal protection that reduces its performance to a safe level when the lamp surface temperature is exceeded
for extremely deep dives to max. depth -200m is equipped with 5mm thick borosilicate glass
waterproof heavy-duty Aton connector with gold-plated contacts, sealed with 3 o-rings
the housing of the high-quality aluminum alloy is protected by a hard anodised surface
spare o-rings and silicone grease for lubrication are in the package content
Our quality control
For your maximum satisfaction with our product, we check every single light that leaves our production. This includes a leak test in the pressure chamber so that the light can safely handle diving depths down to -200 meters. Confirmation of the test can be found in the enclosed instructions.
3 years warranty

Developed and manufactured in Czech Republic
PACKAGE CONTENTS:
diving light Aton TECH
Li-ion charger 110 / 220V
silicone grease
operating instruction
set of spare O-rings
Optional accessories
Aton hard case
Durable plastic case with PU foam padding for safe storage of diving light and accessories.
Technical specifications
Light
Light output max. 4000 Lumen
Constant current output – maintains constant light output
LED Cree XHP-70.2 cool white LED, with a lifespan of 50,000 hours
Color temperature 6500°K
Focus beam 12°
Control by Aton PRESS system, power steps 20% / 50% / 100%
Integrated Li-ion rechargeable battery pack 76 Wh
Overcharging and discharging battery protection, short circuit protection
Intelligent thermal control to avoid overheating
Battery status indication by color LED
Running time: 140 min. / 280 min. / 630 min. (100% / 50% / 20%)
Borosilicate glass th. 5mm
Lamp head dimensions: length 60 mm x dia 48 mm
Battery case dimensions: length 200 mm x dia 51 m
Weight (without Goodman handle and belt holder): 1082 g (473 g under water)
Material: hard anodized high grade aluminum alloy
Max. depth underwater – 200 m.
Hard case
External dimensions 295 x 265 x 140 mm
Download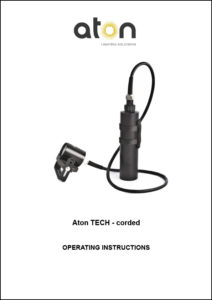 Operating instructions